●

What is qi?

Qi (which is "ki" in Japanese) is incorporated into many common Japanese words: Genki (vitality), kibun (mood), kiai (spirit), kimochi (feelings), kedakai (being noble), byouki (sickness), yuki (bravery), konki (endurance), yaruki (driving force), kiraku (comfort), etc. It may be difficult to believe in the existence of qi because it is intangible, but qi definitely exists. Qi is the energy source for the body's vital functions. It circulates around the entire body to provide essential energy to organs and tissues and helps the blood and other body fluids circulate around the body.

When qi is circulating well throughout the body, the body is in harmony. However, overeating, lack of exercise, or an excess or deficiency in any of the seven emotions causes qi to stagnate. For example, stiffness in the neck and shoulders can be described simply as qi stagnation in the neck and shoulders. Here, I will introduce you to the relationships between the movement of qi and emotions, common Japanese phrases that express emotions by referring to the movement of qi, and the effects of its movement on the body.

Anger makes qi ascend:
Ki ga gyakujo suru (lit. translation: Qi goes up, meaning: You feel angry)---Liver disease, hypertension, etc.

Fear makes qi descend:
Koshi ga nukeru (lit. translation: Hips drop, meaning: You become scared)---Renal or urinary bladder disease, etc.

Joy makes qi slow down:
Ki ga yurumu (lit. translation: Qi moves slowly, meaning: You become careless)---Unstable heart and mind.
Fright disturbs qi:
Ki ga doten suru (lit. translation: Qi turns over, meaning: You feel upset)---Disturbance in spirit qi (emotionally unstable).

Sorrow makes qi vanish:
Kiryoku ga nakunaru (lit. translation: Qi power disappears, meaning: You lose motivation)---Lung damage.

Thought makes qi coagulate (stop flowing):
Ki ga fusagu (lit. translation: Qi is blocked, meaning: You feel depressed)---Spleen (stomach) damage.
Anxiety diminishes qi:
Ki wo momu (lit. translation: To crumple qi, meaning: You feel worried)---Lung damage.
It is normal for humans to have emotions, but if a particular emotion persists (for example, if a person is continually angry), it will cause disease.

●

What is blood?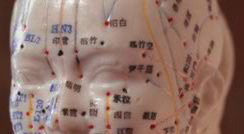 As you know, according to Western medicine, blood is made in the bone marrow. Chapter Jue qi in Ling Shu (Spiritual Pivot, a classic textbook in Oriental medicine) states: "The middle energizer takes in qi, extracts its essence, and turns it into a red substance called blood." In simple terms, the spleen makes blood from food in the stomach. So blood is made in the spleen and stomach. In fact, in practical terms it can be said that a person who does not eat much because they have a weak spleen and stomach will become anemic easily.
Blood circulates throughout the body and nourishes all components of the body, such as the visceral organs, skin, hair, bones and muscles, to assist their proper and vigorous functioning. The following is a list of visceral organs closely related to blood, and their functions.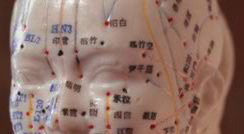 Spleen: Makes blood and keeps it flowing through the vessels (Blood factory).

Heart: Circulates blood (Blood-circulating pump).

Liver: Stores blood (Blood bank [blood is stored and released as required]).
To tell you the truth, qi and blood are in an inseparable relationship. Chapter Tiao jing lun in Su Wen (Basic Questions) states: "Qi is blood's controller, and blood is qi's mother." Qi and blood flow together. If qi stagnates, blood will also stagnate, which leads to various diseases. When a person's toes are cold, it is often said that it is due to "poor circulation." Blood has a warming effect, so if insufficient blood is reaching your toes, your toes will become cold.