●

From the time I was born

Both my parents were acupuncture/moxibustion practitioners, so I grew up without ever going to the doctor or taking medication.
When I had a fever, I had carrot juice (an excellent antipyretic) and acupuncture; when I had a sprain, I had moxibustion; when I had diarrhea, I had a salt moxa on my navel; and when I had a toothache in the middle of the night, I had a large moxa on Quchi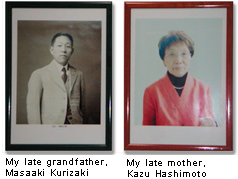 (LI11, on the elbow). Furthermore, when I was young, the idea of "ishoku dogen (diet is as important as medicine ? bad eating habits are bad for your health)" was the philosophy that was strictly followed in our home, and we ate brown rice, which is very nutritious.

The accompanying dishes were mainly vegetables, so our meals were quite plain. Every day before meals I was reminded to chew well by singing a song called The Chew Well Song (my mother probably made it up), because brown rice is hard. At that time, I was simply wanting white rice, but I can now appreciate the way I was brought up, such as having a great sense of the season, and without realizing it, I "learned through my skin" what diet is good for the body, and that acupuncture is the best remedy for all sorts of diseases.


●

In the footsteps of my mother, who was a devotee of acupuncture and moxibustion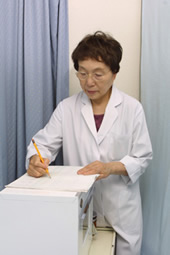 My mother, influenced by my grandfather, who was an acupuncture/moxibustion practitioner, obtained her license at age 14. For the next 57 years until her death at age 71, she devoted herself to acupuncture/moxibustion, the care of her patients and her studies. She always said, "Learn from your patients." Her patients comprised a diverse range of people. The late Mr. Utaemon Nakamura, who was a living national treasure in the field of Kabuki, was once a patient. Even though I was only young when my mother told me about his treatment etc., it made a great impression on me. But it was a high school boy, M, who made me determined to be an acupuncture/moxibustion practitioner.
He was suffering severe nephrosis and his doctor told him that he should give up his dream of playing baseball. Although it was very difficult for my mother, she successfully cured him completely. M became famous by achieving success (hitting home runs etc.) in the national high school baseball tournament. After the story behind his success was broadcast on TV, my mother's clinic received a lot of enquiries from all over the country, and she became very busy. By that time, I had been helping her for 11 years, but I didn't have a license because I know that one can't be an expert in this profession if one hasn't studied thoroughly. However, seeing my mother busy in her work, I decided to study seriously. My encounter with M was a turning point in my life. Now I am completely absorbed in the marvels of acupuncture and moxibustion.

●

Our encounter with Hokushinkai

At age 53, my mother gave up the techniques that she had been using and joined Hokushinkai, an acupuncture/moxibustion organization led by Dr. Rempu Fujimoto. The Hokushinkai method is based on traditional Chinese medicine and the principle of bian zheng lun zhi (pattern identification and treatment based on an overall analysis of the patient's symptoms/signs and condition). An initial consultation starts with an in-depth interview, and the doctor observes and analyzes the patient's face, pulse, abdomen, skin, acupoints, etc. from all aspects, and then rebalances the whole body by using only a small number of needles. It is an innovative and very effective method.
Tapes of Dr. Fujimoto's lectures were always being played at home, so when I first met him, I felt as if I had met an old friend. I cannot help thinking that my encounter with this wonderful person indicates that my mission is to serve many people through acupuncture and moxibustion. Dr. Fujimoto lives in Nara, and at present I am continuing my studies with him and visit him regularly.

●

My mother's battle with disease

From the development of pain to the detection of pancreatic cancer: From June 2004, my mother had pains in her chest and back and was tested in four or five hospitals. No abnormality was observed in any of the tests. One hospital even referred her to a department of psychosomatic medicine because nothing was detected in the test. The diagnosis given by the last doctor that she saw was fibromyalgia. I resented this ridiculous diagnosis, and with my older brother, who is also a practitioner, we gave her acupuncture/moxibustion treatment and put a refrigerated towel on the site of the pain every day. The site was very hot, so the towel became warm after a few minutes.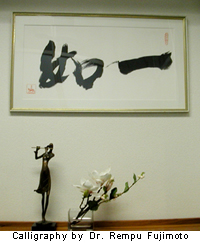 I kept changing the towel throughout the night; I changed it many, many times ? easily more than a thousand times! This continued for about three months. The condition was better on some days, and worse on others. In retrospect, I am glad that the cancer remained undetected at that time because we were able to go to a hot spring together, and in August we visited her hometown, Fukushima. But I still think the way she endured the pain was more admirable than me changing the towel thousands of times, and I admire her courage. In September, my mother became very weak so I took her to a local GP for an infusion. I showed Dr. H a suppository prescribed at S Hospital. He said, "This drug…. This is a very serious matter," and he conducted some tests. I will never forget September 30, three days after the tests; we were told, "She has advanced-stage pancreatic cancer. The best-case scenario is that she will survive until the end of this year." After that moment, our family was closer than I can describe, and we fought against the disease. Thanks to my mother I learned so much from this experience.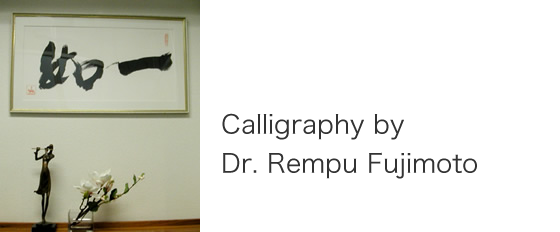 ●

My mother's life in the hospital and her attitude toward life

My mother was hospitalized for treatment for approximately one and a half months from October 3 (including a two-week period of home treatment). Although it was a very difficult decision to make, we decided to tell her about her cancer. She replied, "Then I have to get rid of it," and she didn't even shed a single teardrop ? right to the end. It was only just before that time that she had been well and working hard, so she must have hated being in hospital doing nothing. Nonetheless, she had an immense will to live and even made people around her laugh. She didn't want to trouble the nurses and tried to do everything by herself, even when it was very difficult. The nurses told her many times not to hesitate calling for their help. Up until that time she had lived without asking for help, but she said, "Now I realize that a person can't live without help. I am receiving so much help." After that, she said thank you in the languages of many countries and spent every day expressing her gratitude. The more the disease advanced, the more she thanked the people around her, and her spirit seemed to become stronger. My brother and I repeatedly gave her acupuncture/moxibustion treatments in her room at the hospital. Her doctor said that she would die either due to hemorrhage or breathing difficulty, but she passed away in my arms as if falling asleep ? surrounded by her family. Her body was soft like pure cotton, her face (with half-opened eyes and mouth, just like Buddha) was shiny and truly beautiful; I told her a hundred times that she was so beautiful. My mother always said, "A person dies the same way they have lived." She devoted her life to acupuncture and moxibustion to help people who were suffering. There was a moxibustion mark on her white arm, shining like an award medal.

●

Opening of my clinic and future vision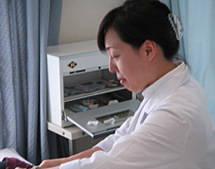 Advanced medical technologies and pharmaceuticals have developed in recent years, so why hasn't cancer mortality decreased? Public interest in health has been higher than ever and people have been putting great effort into maintaining health, so why has the number of sick people been increasing?
In dealing with diseases, apart from human-caused diseases such as asbestosis and infection through blood transfusion, I think we need to observe nature more carefully, be humble before nature and learn from her, and we must believe in the natural healing power that is in our bodies.

A breakdown in the harmony with Mother Nature puts "strain" on the body, causing a disease. Very strong drugs or drugs that are administered carelessly (I call this "hard power medicine") destroy the body's healing power, and their therapeutic value does not last very long. In addition, I don't think that medicine in which a series of tests only on the body are carried out is true medicine because the body and mind are inseparable. In Oriental medicine, the doctor listens to the patient, actually touches the patient, detects "strain" through information expressed on the surface of the body, and helps bring out the patient's natural healing power (I call this "soft power medicine"). I am certain that it is the style of medicine that needs to be promoted in the 21st century. Through my mother's illness, I have realized in my very heart that every second of life is precious. My mother's last words to me were, "Live your life by helping others." I don't think that my mother's death due to cancer is a coincidence. I dearly want to serve people suffering with cancer in the future. As the director of Michiyo Acupuncture Clinic, I am committed to continue learning for the rest of my life to be an accomplished humanitarian acupuncture/moxibustion practitioner, provide treatment to as many people as possible and help them experience the wonders of acupuncture and moxibustion. One year after my mother's death, I joined my hands in prayer in front of her grave and swore that I would become an accomplished acupuncture/moxibustion practitioner, that I would take her work even further, and that I would devote my life to the care of others.